Map and Rooms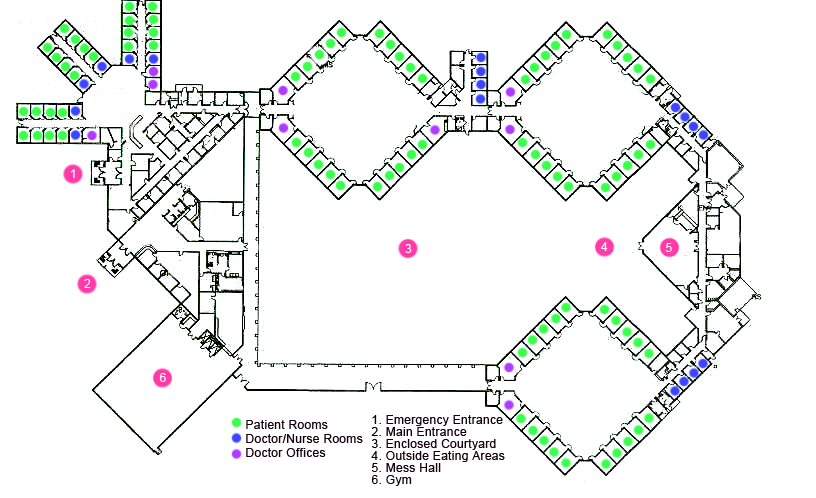 AKUJUNKAN MAP AND ROOMS
ROOM NUMBERS AND LOCATIONS

100s are offices and conference rooms, mostly located in the west side.
200s are all doctor and nurse rooms, scattered throughout the building.
300s are all non-dangerous patients, these rooms are found in the two eastern most areas nearest the mess hall.
400s are all minimal-threat and self harm patients, in the central northern most area.
500s are all high-threat patients, ones that have in the past committed or attempted murder, found in the north east.

All rooms have windows that do not open and are made of unbreakable glass. Furniture in patient rooms is bolted down and not movable. Patient rooms have either one or two beds, depending on case to case issues. All high-threat patients have one bed in their rooms.

Patients use communal locker rooms where the bathrooms, changing room, and showers are located.

All staff rooms possess one queen size bed and a personal bathroom.

BANNED OBJECTS

Please remember the following items and substances are not allowed on the premises:

Lighters, matches, and zippos.
Knifes, daggers, or any other sharp objects.
Anything made of glass or fiberglass.
Razors, nail clippers, and files.
Any over the counter drugs potently harmful if mixed with prescribed medication.
Chains, belts, straps not sewn fully to clothing.
credit